Photo provided October 2015: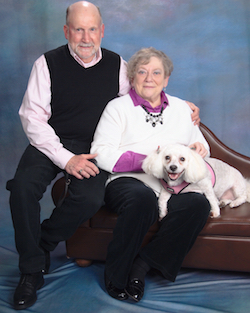 Bio updated July 2004:
Jim and I are enjoying life and every moment we get on our new Harley Ultra Classic. We haven't gone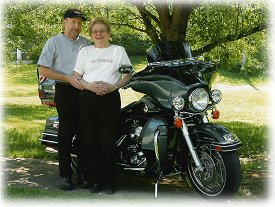 any great distance yet, but last year during Harley's 100th anniversary, we did get to drive on the Indy 500 track with 500 other bikes. We went around the track twice and had dinner in Gasoline Alley. It was the greatest thrill and experience. We had never been to the Indy 500 before! and our first time was actually driving on the track! Wow!!!! Now when I come home, I take every opportunity to spend time with my girlfriends. Joni, Myra, Ronnie, Ellen, Ellen.....also, I can't wait till the reunion next year. Jim and I are going to try to come back with Labor Day weekend too. My dad is 90 and not doing well. We are all in the same boat with our parents at this time in their lives and it is so heartwrenching now..
Original bio from 2001:
I have waited a while to write this because I wanted it to sound right. After reading all the wonderful bios from all of you who sent them in, I continue to go to the venue every night and read them again. Ever since Ellen called me that Saturday, I have a renewed life. All these years I thought I had lost my connection to my life in Sharon, but now I have found it again.

I have been gone from living in Massachusetts for 31 years. It sometimes feels like I never lived there. But my 87 year old father still lives alone in Brockton; and my sister and brother-in-law moved to Falmouth, Cape Cod three years ago. I have sporadic memories of SHS, but I do remember Louis Armstrong coming to the school.....receiving my award at Graduation ceremony and my family didn't know it was me up there because they announced Beryl Vicki Cooper!!!!!! Remember the assembly before graduation where everyone's full legal name was announced?

After SHS I went to Fisher Jr. College (all girls then) and graduated in '67. I was going with Len Gorelick from the age of 17, he graduated Boston Latin and then Boston College. Len had dated Roberta Mall; we fixed up Myra Fine with his best friend, Jimmy Charam. That didn't go anywhere, but Len and I did. We married in July, 1968 at Green's Manor (hi Larry) and moved to Cincinnati in July 1970. I couldn't even spell Cincinnati back then!!!!

We struggled, I had a miscarriage in '69 and '70 and finally in '72 my miracle happened...Joshua Ian. I never wanted my kids to be 5 years apart like Len and I were from our siblings, but oh well, in May '77 Allison Julie was born, 4 years, 10 months apart. We continued to struggle. Len had accepted a job in '70 that brought us to Cincinnati and here I stayed.

We bought our first home in '78, and I thought we were happy. At least I was happy. Long sordid story short, in 1983 it all fell apart and I thought my life was over, but I had my kids. Then in 1984 I took a dare with a friend and filled out a dating service application. Miracle of miracles, I met the love of my life, Jim Mengle, a nice non-Jewish boy from little Morrow, Ohio.. divorced with one kid...here I am Jewish, divorced with two kids! We were together 8 years before we married, but now we are married for 9 years, empty-nesters, working jobs we love for the past 10 years respectively and each of us has a grandson!!!!

In 1995 shortly after Allie graduated high school, and after a number of very mysterious "episodes" which landed me in the hospital, the "big" episode tried to take my life one afternoon. My son, Joshua, happened to be home and just happened to save my life, literally. I checked out 3 times in the life squad, but since I lost my Mom in 1993, she decided it wasn't my time. So, long story shortened, besides having a social security number I am the proud owner of a serial number also. I have a pacemaker to keep me alive, and hopefully I'll make it to the first battery replacement........ Now I possibly won't make it to the reunion because I may need disc surgery very soon so I can start walking normally again. I hadn't planned any surgeries for this year, but oh well...here we go again. My daughter, Allie, gets her Masters in Family Health from the Arizona State University in May and we plan to be in Phoenix then.

I would have to say that the year 2000 was pretty awesome for us. Josh and Kim got married in March and live in Ft. Lauderdale, Fla; Allie and David got married in Disney World in June and live in Chandler, AZ. Josh and Kim presented us with Jacob Daniel in June also, and I am a disgustingly gushing, totally prejudiced, in love Grandma.

Besides all that, Jim is Chief Mechanic at Princeton School District in Cincinnati. He is the most brilliant mechanic that lives!!!!!!!! I have worked for The Habegger Corporation, a Carrier distributor, for the past 10 years. I am a Senior CSR selling heating and air conditioning to dealers in Cincinnati and No. Kentucky. I have been there the longest of any place in my career and will retire from there in probably 12-13 years. Jim and I have completely redecorated and remodeled our home in the past 10 years and we love doing everything together. Oh I almost forgot, we do have one baby in our lives that we love very much and she is Shana Punim, a 13 year old Llasa Apsa, and spoiled rotten to the core. She is a princess and we adore her.

I was very shocked to see how many of our classmates have passed away. Does anyone know what happened to any of them? Jim and I plan to meet Gary Appleton and his wife very soon. I couldn't believe they have lived just 6 miles down the road from me all these years. I love seeing everyone's picture who has sent one in, but please send in a bio also. You have no idea the affect this entire reunion of classmates has had on me and may be having on someone else also. I have been to one reunion, I think it was the 15th; we tried to go to three of Jim's (we are the same age) reunions but only have been able to make one.

I want to send my sincere thanks to all you who have been fortunate enough to get together, renew friendships, memories, highlights, lowlights, and those who have worked so hard to set up the web site and find everyone. It's absolutely amazing!!!!! Thank G-d for the WEB!!!!!!! Please e-mail me at home vickmen@aol.com or at work, vickimengle@habeggercorp.com. I promise to answer and I want to hear everything!!!!!