Updated September 2015
Greetings everyone: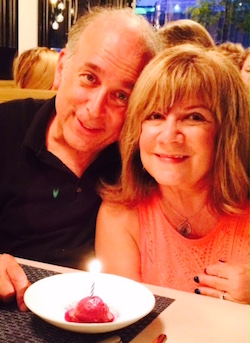 It's hard to believe that we're celebrating the passing of half a century since graduation. That only happens to old people, not the people in our class.

I retired from teaching, as I had mentioned in the 2001 bio, in June of that year. I had a mostly wonderful 31-year career as a public school junior and senior high school science teacher, but at the end I knew it was time to go. My wife and I knew our 8-year-old-daughter had special educational needs, and we wanted to make sure that she got into the best schools to meet those needs. That daughter, Rachel, now 22, is a senior at Mitchell College in New London, Connecticut. She has blossomed into a fine young woman, and Mitchell College has brought out her many talents starting with graphic arts (in which she holds an AA degree) and on-stage acting. She transformed from a kid who was afraid even to read lines a couple of years ago to the one who played a lead as the Wicked Witch of the West in the 2015 spring production of THE WIZARD OF OZ - and she was WONDERFUL. I know this upcoming statement isn't grammatically correct, but Rachel proved that you don't know what you can do until you do it - or at least try. Rachel most certainly learned what she could do and she has made my wife Cheryl and me very proud.

Jeff Kublin shared a wonderful thought with me years ago and it still holds true today. He said "there are two kinds of people in the world - those who believe they can do something and those who believe they can't. And they're usually both right." My philosophy has been that I'd rather try something and fail than not try at all. And much of the time, things work out just fine.

I started serving professionally as a cantor in 1969 and don't know where those 46 years have gone either. My current position is with a group called the Jewish Residents of Leisure World where I began in 1988. This past week I completed my 28th series of High Holy Day services. My father, now long deceased, was a member of the group and introduced me to the person conducting services. The rest is history. It has been a wonderful association.

Four years ago, I decided I wanted to study Yiddish. One of my congregants taught a Yiddish class as part of a weekly seniors program and urged me to start. I was hesitant, but I realized that if I didn't do it then, I'd probably never do it. What I really wanted to concentrate on was Yiddish songs, and this teacher was very knowledgeable about Yiddish music and she played the piano. Over the years, I've put together a nice repertory of songs and have done a number of musical programs for seniors, some of whom are at nursing homes and have limited mobility. One of the programs is a sing-along (in English) to songs from FIDDLER ON THE ROOF where I dress as Tevya and have the people sing along with me. This program always goes over well, and it's a pleasure for me to bring joy to people who can really use it.

I got involved in Academic Team coaching in Maryland in the late 1980s. Massachusetts didn't have anything like this when we were growing up, but Washington, D.C. started a tv show called IT'S ACADEMIC during our freshman year in high school and it has run continuously since then. I coached at 2 schools whose teams played on that program (one of which won the 1995 championship) and was invited to co-coach teams that played at the national level in Florida every year at Disney World in the Panasonic Academic Challenge. In 16 tries, 6 of our teams won national championships. I still write chemistry questions for a local high school academic tournament, and while my game show days are over, I'm always willing to help anyone who has the dream to appear on JEOPARDY!

I've been in regular touch with Jeff Kublin and Milt Mahler over the years, and it will be my pleasure to catch up with people with whom I've lost contact. For those coming in from other places, have a safe trip. Let's have a great time.

Michael

===============

Submitted in 2001

Greetings everyone It is fun catching up with so many people with whom I've been out of contact for at least fifteen years. I'll try to be brief, but if I'm not, I won't be alone.

My family moved away from Sharon shortly after graduation in 1965. My father had taken a job with the Department of Defense in Crystal City, Va. and I chose to attend the American University in Washington, D.C., so I was close to them when they moved to Silver Spring, Md. Ironically, the house my wife Cheryl and I bought in 1997 is less than a mile from where my parents moved almost 35 years ago.

I had been actively involved at Temple Israel on Pond Street since moving to Sharon in 1956. At American, I got involved in a number of activities including Hillel, the Jewish student group on campus, and even volunteered to help conduct services. In the fall of 1966, the new Rabbi and I ushered in the first ever High Holy Day services on the campus. They became an annual event and three years later, his replacement offered me a contract to serve as their cantor. It was an offer I accepted and it has provided a sideline for the last 31 years. At about the same time, a friend told me about a Jewish Community Group that was looking to hire a teacher for their Sunday School and wanted to know if I was interested. I had been a member of Future Teachers of America at SHS during my sophomore year but hadn't given much thought to teaching after that. I took the job and LOVED it. This group was also looking for a bar mitzvah tutor to workwith its students, and I agreed to tutor these kids for a particular Rabbi who conducted bar mitzvah services. One day I got a frantic call from the parents of a young man whose bar mitzvah was scheduled five days later. The Rabbi was leaving town and told me I would conduct this service. My attitude was sheer petrification, but the show had to go on, and did so apparently quite successfully. I continued conducting these services, serving as cantor/rabbi for about a year when some invited congregants told me that would like me to audition for the cantor position at their synagogue. I did, got the job, and have served as a cantor ever since. My current position is with a group from a retirement community called Leisure World. I have been their only Cantor since they started their High Holy Day services in 1988 and it has been a very satisfying experience for me. Talk about being at the right place at the right time.

My experiences with the Sunday School teaching gave me the impetus to try teaching in the public schools. I had majored in Government and Public Administration at American with the idea of going to Law School, but I got interested in the physical sciences here, and unlike my SHS science experiences which were not particularly good, I did well here. When I applied to do my student teaching and asked about the job possibilities in Social Studies and Science, I was told "History teachers are a dime a dozen. As a science teacher, we can hire you immediately." Thus a science teacher was born. I've been a science teacher in two school systems in Maryland, completing my 30th year, and I am planning to RETIRE in June. I may continue part-time for a year or two, because in order to keep qualified teachers in the classroon, the State of Maryland is planning to let people start collecting retirement while paying them salary to continue teaching. They may be making me an offer I can't refuse.

I am finishing up at Montgomery Blair High School in Silver Spring, Md. a school which boasts among its graduates a 1961 graduate who would co-author of All the President's Men, a 1963 graduate who would become an academy award winning actress who made a name for herself on a brand new 1968 show called Laugh-In and who is still visible as a first-rate box office draw to this day, a 1964 graduate who aspired to be a national news anchor and made it until she no longer saw "Eye to Eye" with CBS, and a 1962 graduate who worked in the Nixon White House until deciding to try his luck in the film industry. He was offered the part as the teacher in "Ferris Buehler's Day Off" which led to a similar role with Fred Savage in "The Wonder Years." (I'll tell you their names at the end, but I'll bet you know them all). I got a chance to meet this last guy in 1997 in person after he spoke at graduation, and shortly afterward found out that he was going to have a show on Comedy Central called WIN BEN STEIN'S MONEY. I had been fascinated with game shows since our SHS days, and I got the chance to appear on an NBC show called the WHO WHAT OR WHERE game in 1970. I played well but didn't win. When JEOPARDY! came back in the mid-80s I set my sights on making that show. It took me a bunch of tries, but I finally made it on the show for a taping that was aired on July 2, 1996. The first round was all I could have wanted. I had as much money as the other two contestants together at the end of the Jeopardy! round, but one opponent found all three daily doubles in the game and I was behind going into Final Jeopardy! My worst fears arose when the final Jeopardy! category came up as "Designers." I played for the win, and when the answer " This Designer Who died in 1892 got his first big break designing luggage for Empress Eugenie" came up, I knew I was in deep kimchee. Think about it, I'll share the answer when I mention the other names. Getting back to Ben's show, I applied to be a contestant and got invited to try-outs in Hollywood last February, invited back to tape in May for a July air date. The show has aired twice and may air again, so I won't reveal the outcome, but keep tuned because you might get a chance to see Michael Kravitz win Ben Stein's Money.

On a more personal note, my wife Cheryl and I have celebrated our eleventh wedding anniversary. Our daughter Rachel was seven in June and she is the love of our lives. She was recently honored as "student of the month" at her elementary school for her caring and dedication, and it was a real thrill for all of us. I've had my thrills with things that have happened at school, but this one was truly special.

I have many good memories of Sharon. My most recent ones tend to be sad ones because my trips to Sharon now involve a trip to Sharon Memorial Park to visit the graves of both of my parents. For those who have been through that, you know how tough that can be. It would be a real pleasure to come back to Sharon (or thereabouts) for the fun of renewing old acquaintances after so long a time. Should any of you get down to the nation's capital (we live less than three miles from D.C. in Silver Spring, Md.) please e-mail msk947@ aol.com or call 301-439-1531. It'd be fun to reconnect.

Best to all.

Michael

P.S. All the President's Men Carl Bernstein


Academy Award Winning Actress Goldie Hawn
News Anchor Connie Chung
Designer who died in 1892 Louis Vuitton - and is his stuff ever UGLY!